A couple of weeks ago, 7-year-old Frankie Bejarano told his grandparents he would give anything to go for a helicopter ride. The next day, his wish came true. But nobody was happy about it.
The first-grader was bitten by a rattlesnake April 7 while using his new telescope in the driveway of his grandparents' home in Elephant Head. He spent four days in the hospital and could miss the rest of the school year as he recovers.
That Friday afternoon started out just like any other. The Sopori Elementary student went to his grandparents' home after school with his sister, Ariana, 9, where they played with their little brother, Phillip, 3.
After dinner, Elle and Bob Marcotte took the kids outside to look at the stars through the telescope around 7:30 p.m.
They were about 25 yards from the house when Frankie suddenly started screaming in agony, running around and shouting that something was after him.
"I honestly thought he'd stepped on a bumble bee and it had stung the bottom of his foot," Elle Marcotte said. "We took him inside and saw the snake bite and immediately called 911."
With Elle on the phone, Bob went outside and shot the rattlesnake twice, killing it. They guessed it was about 20 inches long.
Bob and Elle tried desperately to calm down Frankie as they waited for help to arrive. They called the children's mother, Sandra Miller, at work. The Elephant Head Volunteer Fire Department and Green Valley Fire District arrived at the scene along with an ambulance. Sandra made it to the home minutes before the helicopter arrived.
"It took forever to get here," Miller said. "I didn't know how much time we had because we've never been through this before. I wanted to talk to him and have time to say goodbye if something bad happened."
Frankie said the helicopter was incredibly loud when it landed, but all he remembers from the trip is the headphones that allowed him to hear the pilot and the lights flickering below.
"It was like I was in a bird with windows," Frankie said Thursday with a giggle.
Once at Banner University Medical Center, Frankie had blood drawn and was given anti-venom and morphine.
A flustered Elle accidentally erased the smart-phone photos of the dead snake she'd taken for the doctors, but Bob saved the day — he brought the snake with them to the hospital. Doctors knew exactly what they were dealing with.
Over the next four days, doctors used markers to measure the swelling in Frankie's leg and how far up the pain extended.
"It was fiery hot to the touch," Sandra recalled.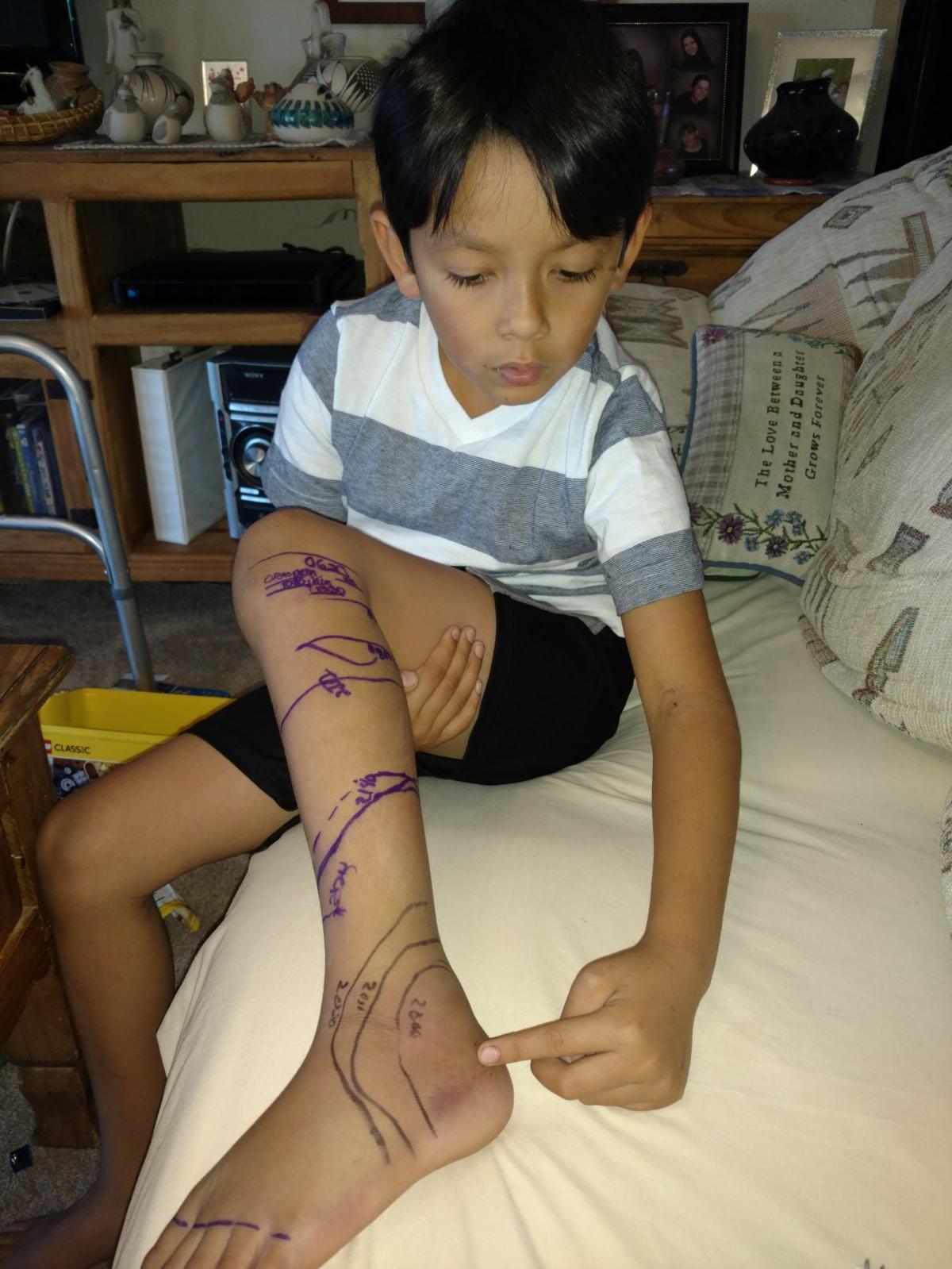 The boy was sent home Monday afternoon, but has to go back every couple of days for blood work. Because the snake's venom causes blood to thin and because Frankie is still in pain, he's not allowed to move much. That means he won't be going to school anytime soon.
"They said in a month he should be feeling normal," Sandra said.
None of them had any idea what a rattlesnake bite would entail.
"I thought people would just get anti-venom and go home," Elle said.
But smaller snakes, like the one that bit Frankie, often make for tougher cases because their inexperience in squaring off with challengers often has them pumping all their venom into bite victims. Older snakes have the experience and muscle control to hold back.
For now, Frankie is enjoying being spoiled, playing games on his tablet, watching Paw Patrol on TV and making cars and trucks with his Legos. Ariana has been bringing his homework and his classmates have been busy making him cards.
The worst part of it all? "Not being able to go outside and jump on the trampoline and I can't Easter egg hunt," Frankie said.
The Marcottes said they plan to put up solar lights around their property and walk with flashlights at night. Their dog, Kristoff, began a snake awareness class Friday.